---
---
Quinta-feira, 13.09.12
Caros/caras simpatizantes do uso da bicicleta!
Em anexo segue o convite e o programa definitivo para o Workshop "Think Bike", organizado conjuntamente pela Câmara Municipal de Lisboa, a Embaixada do Reino dos Países Baixos e a Dutch Cycling Embassy, no âmbito da Semana Europeia da Mobilidade 2012 (SEM 2012).
Este Workshop terá lugar no Centro de Informação Urbana de Lisboa (CIUL – Picoas Plaza) no dia 17 de Setembro (2ª feira), das 10h às 18h.
Saiba mais na página Facebook da Embaixada do Reino dos Países Baixos em Lisboa:
http://www.facebook.com/photo.php?fbid=220188171443915&set=a.213026758826723.46696.211780202284712&type=1&theater
Dado o número limitado de possíveis participantes será necessária inscrição prévia, até ao dia 13 de Setembro de preferência, para o seguinte e-mail: ver.Fernando.nunes.silva@cm-lisboa.pt, indicando os seguintes dados:
Instituição:
Nome:
E-mail:
Telefone:
Inscreva-se!
A sua presença é muito importante para nós. Esperamos por si!
N.B. Apenas a sessão da manhã é de entrada livre, mas, de preferência, com inscrição prévia.
---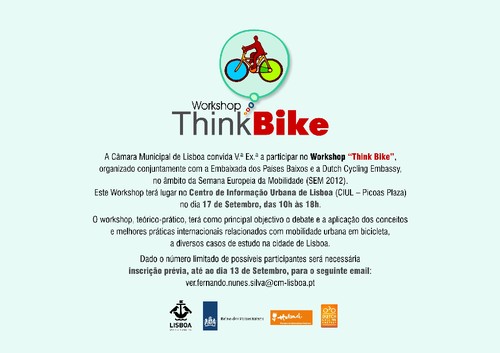 Program Think Bike Workshop  Lisboa
On:    Monday 17 September May 2012
At:     Centro de Informação Urbana de Lisboa
9.30     arrival at Centro de Informação Urbana de Lisboa
10.00   opening by Dutch Ambassador in Lisboa mr. Soeters
10.15   Opening speech by deputy mayor for mobility in Lisboa
mr. Fernando Nunes da Silva
10.30   Introduction of the Dutch team and the participants
            Dutch team will consist of:
Jeroen Buis, bicycle specialist at Witteveen+Bos
Marjolein de Lange, bicycle specialist at Dutch Cycling Embassy
10.45   Cycling in the Netherlands as an international example
                       Marjolein de Lange, Dutch Cycling Embassy
Past, present and future of cycling in the Netherlands.
11.00   Bicycle basics
                       Marjolein de Lange, Dutch Cycling Embassy
Insights in basic ergonomics and design for cyclists: Curves, widths, visibility, pavement, etc.
11.15   Bicycle-inclusive planning and design
                       Jeroen Buis
Introduction to the Dutch way of cycling-inclusive urban traffic planning and road design. Sustainable road safety, bicycle facilities, Dutch principles for cycling-inclusive design
12.00   Coffee/tea break
12.15   Introduction of the group assignments
                       Marjolein de Lange and Jeroen Buis
            Applying Dutch design principles for bicycle-inclusive planning to projects in Lisboa:
1.    Bicycle connections of Av. Liberdade: How can the bicycle route of av. de Liberdade be connected to the to the cycle paths along the river  (Av. Infante D. Henrique and Av. da Índia), and to the Av. Noves.
2.    Av. Noves: How can the new circulation plan (one-way traffic in most streets in the area of Av. Noves) be combined with better facilities for cyclists?
Av. de Liberdade: What is a good solution for the cyclists in the bus lane at the bus stops? .
12.30   Visit to Av. de Liberdade to investigate the situation for cyclists
13:15   Pause
14.00   Groups work on the 3 projects of group assignments
Investigating the needs for cyclist and other road users and sketching design solutions.
16.15   Tea Break
16.30   Bicycle policy
                       Marjolein de Lange, Dutch Cycling Embassy
Comprehensive bicycle policy to make a cycling city..
16.45   Presentation of the results and discussion
Groups present their designs, Dutch Cycling Embassy gives comments and discussion about bottlenecks and opportunities for the designs.
            (in presence of city of Lisboa)
                       Moderated by Jeroen Buis
Presentation of the design solutions and the ideas behind it
17:45   Discussion on what participants have learnt and what they can do with it
18:00   Closing
About the team of the workshop:
Marjolein de Lange is an independent traffic consultant specialized in design and policy for bicycling and road safety. She works for organizations such as the city of Amsterdam and the Dutch Cyclists Union. For the Dutch Cycling Embassy she is leader of the Thinkbike project.
For 10 year she has been an employee of the Cyclists' Union in Amsterdam, advising the municipality on traffic design and policies for cyclists. At present she is part of the strategic board of the Cyclists' Union in Amsterdam and chair of its traffic technical committee.
Jeroen Buis is a traffic engineer and works as senior consultant urban mobility and cycling expert at Witteveen+Bos Consulting Engineers. He has more than 10 years of international experience consulting cities in Latin-America, including Brazil, and Asia with their urban mobility and cycling policies, plans and designs.
In the past 7 years Jeroen conducted more than 20 multi-day training courses on cycling-inclusive traffic and transport planning and design in Brazil, Chile, Ecuador, Thailand, Turkey, Australia, and South-Korea.
Autoria e outros dados (tags, etc)
---
---
---